For those who read the wonderful Coast magazine, there is a fantastic offer this month for a FREE Skin Revivals Revitalising Cream from Beauty Naturals (worth £13.00). I ordered mine at the beginning of last week and a beautiful package arrived at my door less than 48 hours later.
As well as the free cream, there are a range of hugely discounted products that you can choose with the offer.
I went for two products, the free Revitalising Cream and the Harmonising Tonic.... the tonic I received included a free pack of organic cotton pads.... so for £5.50 in total, I got 3 products worth £22.30! The package also came with a catalogue with various money saving vouchers for when you make further orders.
I am very pleased with the products that I received so I will just tell you a bit more about them.....
Skin Revivals Revitalising Cream - White tea and rosehip....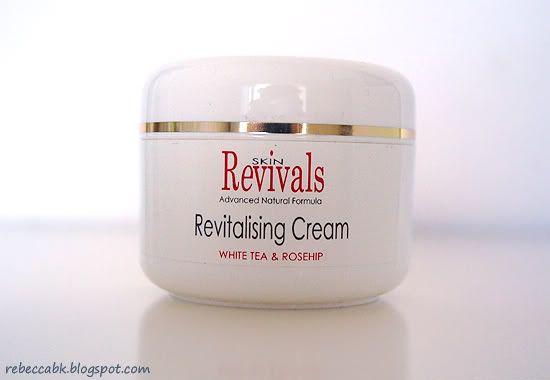 "A silky, smooth textured cream with a gentle rose fragrance and easily absorbed. The concentrated combination of rich emollients will help strengthen the skin, restore vitality to dull skin and re-balance. Additional active botanicals help to diminish the appearance of lines, protect against free radical damage and maintain moisture balance."
What's good about the product?
+ Not tested on animals
+ No artificial colours or fragrance
+ No primary petrochemicals
+ No parabens
+ Added UVA/B protection
Skin Revivals Harmonising Tonic - White tea and bilberry....
From the website....
"For skin that needs gentle refining, refreshing, firming and clarifying. An alcohol free, mild and soothing, herbal toning lotion to prepare skin for daily moisturising. Clarifies, normalises sebum production, maintains moisture balance and brightens the complexion."
What's good about the product?
+ Alcohol free
+ Not tested on animals
+ No artificial colours or fragrance
+ No primary petrochemicals
+ No parabens
From what I can tell so far, these products are of amazing quality and very good value for money even at full price. I love the fact that you can smell the beautiful ingredients and that the cream soaks straight in to the skin leaving you feeling completely refreshed. I have incredibly sensitive skin and these products do not irritate me in the slightest, huge bonus for me!
I will definately be purchasing more from
Beauty Naturals
, their catalogue is filled with amazing products including firm favourites of mine such as Burt's Bees, Faith in Nature and Badger.
As you all know, I adore and only use cruelty free products and you can be assured that ALL products from Beauty Naturals are free from slaughterhouse derived ingredients. Neither the ingredients nor the products have been tested on animals and
Beauty Naturals
insist on assurances from their suppliers that they do no solicit third party testing.
I really recommend this offer so grab yourself a copy of Coast magazine and get ordering!